Posted by: Mitchell Refractive Surgery & Eye Center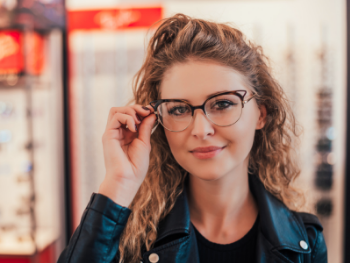 Why Choose Mitchell Eye Center for Eyeglasses?
At the Mitchell Eye Center, we know quality eyeglasses are important for your optical needs. But beyond that, your eyeglasses are an opportunity to express your style and personality, so finding the perfect set matters even more! When you visit our eyeglasses shop known as "The Optique" at our Boca Raton, FL office, our optician Kevin Derry will provide expert knowledge and a thorough explanation to ensure you walk away with the "proper fit."
What Constitutes Proper Fit?
During your visit to The Optique, Kevin will assess your unique needs before recommending eyeglass frames. We will consider your face shape, eye color, and hair color to help narrow down your choices. The next step will be for you to try on the eyeglasses. We have a wide range of amazing designers to choose from. From here, your eye care specialist will consult you to assess the comfortability of the frames as well as their functionality for your vision needs.
Our Lens Technology is Available to You!
Eyeglasses can positively affect your everyday success—whether that's at work, school, or driving to and from. Why limit your full potential? During your visit, ask us about the various lens technologies that exist today:
Zeiss Anti-Reflective Lenses – Anti-Reflective lenses are ideal for nighttime driving since they are designed to virtually eliminate glare, including glare from headlights.
Shamir & Zeiss Digital Progressive Lenses – These no line multifocal lenses are very similar to natural vision. The vision of these lenses is typically clear at all viewing distances. They are great for people wearing multifocal lenses for the first time.
Transition Lenses – Transition lenses automatically darken in sunlight and lighten indoors, allowing you to use one pair of glasses for indoor and outdoor wear.
Polarized Lenses – These lenses completely eliminate indirect reflection as a result of snow and water. This increases depth perception and visual acuity. Polarized lenses can be worn while participating in many types of sports, such as skiing and boating.
High Index (Thin Lenses) – High Index lenses are significantly lighter and thinner compared to other types of lenses. They weigh less and are very comfortable.
U.V. Filter – These lenses are required following cataract surgery. They protect the retina from the damaging effects of ultraviolet light.
Bifocal Lenses – Formerly the most common type of multifocal lens, bifocals provide clear vision up close and at a distance.
HEV Blue Filter Computer Lenses– These lenses help correct and protect vision when you are viewing a computer or other electronic devices.
Maui Jim (MauiBrilliant) Lens Technology– This shatter-resistant advanced lens material features optics nearly as clear as glass with just one-third of the weight.
Visit Us at Our Boca Raton, FL Office Today!
Ready to select the perfect eyeglasses for you? Visit The Optique at the Mitchell Eye Center to take advantage of our amazing eyeglasses shop. We can't wait to help you find the glasses that meet your needs and style! Contact us today to learn more.
---