Home » Blog » I Have Been Diagnosed with Cataracts. What's Next?
I Have Been Diagnosed with Cataracts. What's Next?
Posted by: Mitchell Refractive Surgery & Eye Center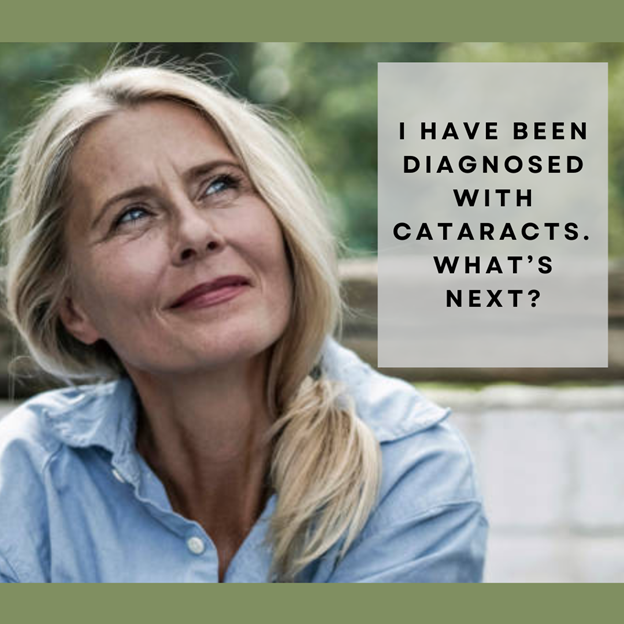 You are not alone if you have been diagnosed with cataracts by your eye doctor. According to the National Eye Institute, cataracts affect over 24.4 million Americans age 40 and older. At our practice, we are here for you to ensure you have the best support for your cataract diagnosis.
Here are a few recommendations from the American Academy of Ophthalmology to follow once diagnosed with a cataract.
Have an eye exam every year if you're older than 65 or every two years if you are younger.
Protect your eyes from UV light by wearing sunglasses and a hat that block at least 99 percent UV.
If you smoke, quit. Smoking is a key risk factor for cataracts.
Use brighter lights for reading and other activities. A magnifying glass may be helpful to use.
Limit driving at night once night vision, halos, or glare can affect driving safety.
Take care of any other health problems, especially diabetes.
When it becomes challenging to complete your regular activities, consider cataract surgery.
Make an informed decision about cataract surgery. Have a discussion with your eye doctor about the following:

the cataract surgery
preparation for and recovery after surgery
benefits and possible complications of cataract surgery

cataract surgery costs

Ask questions to your eye doctor.
Protect Your Eyes
You may be able to slow down your development of cataracts. Protecting your eyes from sunlight is the best way to do this. Make sure to wear sunglasses that screen out the sun's ultraviolet (UV) light rays.
Cataract Treatment
How can cataracts be removed? Cataracts can be removed only with surgery. If your cataract symptoms are not bothering you very much, talk with your eye doctor to see when is the best time to remove the cataract. Your eye doctor can suggest options that will best suit your needs.
What Happens During Cataract Surgery?
During cataract surgery, your eye surgeon will remove your eye's cloudy natural lens. Then, your eye surgeon will replace it with an artificial lens. This new lens is called an intraocular lens (or IOL). When you decide to have cataract surgery, your doctor will educate you about IOLs and how they work.
Cataracts are a prevalent reason people lose their vision, but looking on the positive side of things, you should be confident that cataracts can be treated. There is no reason you have to suffer vision loss in this day and age when this specific diagnosis can easily be reversed. Talk with your eye doctor about your cataract symptoms, and together, you can decide whether you are ready for cataract surgery. We make a great team with our patients!
We LOVE our patients and THANK YOU for being part of our practice family!

References: American Academy of Ophthalmology and the American Optometric Association. This blog provides information and discussion about eye health and related subjects. The content provided within this blog and any linked materials are not intended and should not be considered medical advice. If the reader or any person has a medical concern, they should consult with an appropriately licensed physician.
---