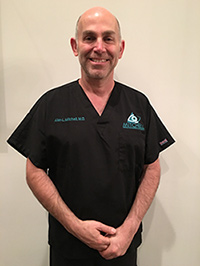 Dr. Alan L. Mitchell and his professional, caring staff genuinely enjoy making each patient's complete experience a positive one. Dr. Mitchell graduated magna cum laude with his undergraduate degree from Tufts University in 1981. He then received his medical degree from the Temple University School of Medicine in 1985. Dr. Mitchell's residency training in ophthalmology was done at New York Medical College in 1990, as well as a Fellowship in Refractive Surgery at the Casebeer Center for Keratorefractive Research and Education in 1993.
Throughout his practice experience, Dr. Mitchell has directed a national consulting service for refractive surgeons and has taught and lectured both nationally and internationally. Dr. Mitchell was Medical Director and Regional Education Director for the first corporately-owned LASIK center in South Florida. In that position, he proctored and credentialed surgeons on how to properly perform LASIK surgery. Currently, Dr. Mitchell is the Medical Director of the Mitchell Refractive Surgery and Eye Center. He is certified by the American Board of Ophthalmology and fellowship-trained in refractive surgery.
To stay up-to-date with the latest advancements in his field, Dr. Mitchell maintains memberships in many prestigious professional organizations. He is a member of the American Academy of Ophthalmology, the Palm Beach County Ophthalmology Society and the Florida Medical Society, just to name a few.
His education, awards and accomplishments speak for themselves, but Dr. Mitchell's genuine, sensitive and attentive manner is what truly sets him apart from other doctors in his field. Patients trust Dr. Mitchell because he is highly-skilled, ethical and confidential. They often pay him the highest compliment by referring their friends to him.