Home » Blog » Becoming Wiser About Your Eye Health
Becoming Wiser About Your Eye Health
Posted by: Mitchell Refractive Surgery & Eye Center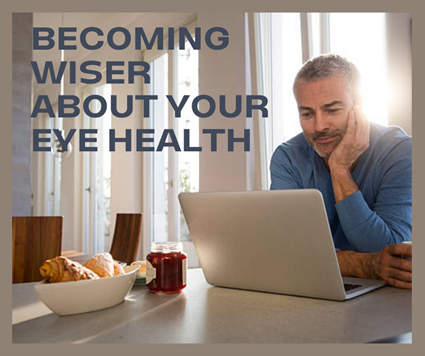 It is no secret that our eyes change as we age. Favorably, there is a lot we can do to preserve our eye health.
A few of the most common age-related vision problems are glaucoma, cataracts, diabetic eye disease, retinal detachment, and macular degeneration. Early detection and prevention are crucial with many of these conditions, and getting an eye exam plays a vital role. One of our priorities is to empower our patients with information about their eye health and educate them on any risks.
Here are some of the most common vision changes associated with age, according to the American Academy of Ophthalmology:
Difficulty Reading and Seeing Things Close-Up
Over time, the lenses in our eyes can become less flexible, mainly because of presbyopia, making it harder to focus on things close-up. Those who never needed glasses before will typically need reading glasses as they get older.
Reduced Tear Production
Maintaining enough tears is essential for keeping your eyes healthy and having clear vision.
Slight Changes In Perception of Color
The clear lens in the eye may discolor and can distort the colors we see.
Need More Light To See
As we get age, we often need more light to see our surroundings, therefore you might need more lamps for work and reading lights in your life.
Increased Sensitivity To Glare
This sensitivity can be challenging while driving, especially night driving.
A New Focus to Kickstart A Healthy New Year
There's no time like the present to place your eye health as a top priority and start developing habits to promote eye health, even if your eyesight is perfect. Long-term practices are vital to preventing chronic eye problems. You can do a few things in your daily life to reduce your risk of developing age-related vision problems and stay healthier overall! Try incorporating the following simple habits into your New Year health goals for a healthier you:
Eat fruits, vegetables, and lean meats
Keep your eyes safe with good UV-blocking sunglasses
Stop Smoking – Smoking is harmful to every system in the body, including the eyes
Don't Forget To Schedule Your Eye Exams!
The eye doctor is your best resource for catching vision-threatening problems early on. Make sure to check-off "Schedule Eye Exam" on your New Year goals to-do list. If we have not seen you in a while, don't hesitate to schedule your next appointment! Start the New Year on a cheerful sight, focusing on your eye health as your top priority.
We Are Here To Help You Achieve Your Eye Health Goals!
Source: American Academy of Ophthalmology
---